You are hereEpisode 4 of Hitchhiker's Guide to British Sci-Fi
Episode 4 of Hitchhiker's Guide to British Sci-Fi
---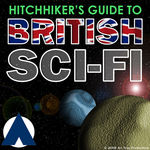 Hitchhiker's Guide to British Sci-Fi - Episode 4
Running Time: 1:00:48
Red Dwarf: Back to Earth reviewed, Life on Mars, Ashes to Ashes, Blake's 7 Audio Books, Torchwood, Paul Cornell's Captain Britain, and feedback from Miles Imel and Mark Goodacre.
Hosted by Louis Trapani, Ken Deep, and James Naughton.
Get your Hitchhiker's Guide to British Sci-Fi swag and gear here! Be sure to also to subscribe to Doctor Who: Podshock for further coverage of Doctor Who.
Submitted rendering artwork for HHGTBSF by Miles Imel.
You can support this podcast by making a donation.
Below are the links to the Enhanced Podcast AAC format and MP3 format version of the first episode of the Hitchhiker's Guide to British Sci-Fi podcast.
Subscribe via iTunes: Below are the direct links to iTunes for both versions.
Direct podcast feeds: