You are hereLouis Trapani
Louis Trapani
---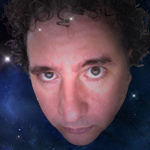 Louis Trapani founded the Gallifreyan Embassy in June of 1985 to serve the growing fandom centered around Doctor Who and other British science fiction during the mid-80s in the US. Originally a local organization with local meetings, today it is international, serving the global community.
In 1989, Louis graduated with a Bachelor of Fine Arts (BFA) degree from the School of Visual Arts in New York where he majored in the media arts department.
He formed Art Trap Productions in 1994.
By the mid-90's he found himself very active volunteering in local GLBT centered organizations in attempt to make a difference in his local community. The Long Island Voice named him "Best Activist" in their Best of L.I. 1999, the same year in which he received a New York State Citation for his volunteer work.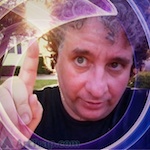 As an artist and photographer, computer and tech geek, and with a life long interest in science fiction and fact, he is now focusing those passions in the ever evolving media landscape.
Coming from a traditional art and design background, he quickly moved into the digital age and he is now paving and forging ahead in the realm of new media.
Today, he produces and hosts Doctor Who: Podshock, The Sonic Newsdriver, and Hitchhiker's Guide to British Sci-Fi. Formerly he had also produced and hosted Jump the POD, which focused on all aspects of the science fiction and fantasy genre.
For more than a quarter of a century, he has been applying technology as a medium for art. In that time, he has worked in audio and video mediums as well as the emerging computer technology in a wide range of multimedia productions encompassing both sound and vision.
Louis is available to speak at events on new media, social media, podcasting, tech and science fiction, etc.
One of the best ways to stay in touch with him and keep with his various projects is by following him on Twitter, which you do so at twitter.com/LouisTrapani.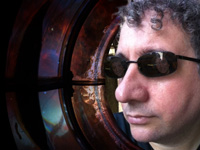 Louis' FriendFeed
Louis Trapani's AudioBoos