Aperture 3. Is it Right for Me?
---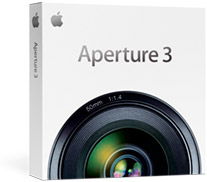 Last week, Apple finally release the long awaited update to the their image post-processing workflow application, Aperture from Apple®.
As I expected and hoped for, the latest upgrade to Aperture incorporates many of the great features introduced in iPhoto '09 (which is part of Apple's iLife suite of software). Chiefly, it now brings "Faces" and "Places" from iPhoto '09 to Aperture. I had been waiting for this upgrade before making the switch from iPhoto to Aperture for my photo post processing workflow. I would had moved over to Aperture long ago, but after iPhoto '09 came out, I became addicted to its (then) new aforementioned features, especially the geo-tagging of photographs. With "Places" in iPhoto '09, it allowed for geo-tagging of photographs, so location data stored in the metadata of image files will be used to place that photo on a worldwide map within iPhoto (via Google Maps). Photos taken with the iPhone will automatically contain the location information (via GPS and/or Skyhook technology). For photographs taken without a camera that will embeds location data in the metadata, you can assign them yourself. I had done just this with the several decades of photos already managed by iPhoto. In addition, iPhoto '09 introduced "Faces" which used face recognition technology to identify faces in your photo library and it would learn faces and make suggestions. I was already tagging certain people in all my photos using keywords, so this made the process easier and also allow me tag more people than I had been doing perviously with earlier versions of iPhoto.
I didn't want to give up these valuable features by switching to Aperture 2.x. I knew that it was highly probable that Apple would also incorporate these iPhoto '09 features into Aperture, but when? Yes, I knew of the many other advantages that Aperture offered over iPhoto. But for many of those added features, I was able to do in iPhoto by simply using an external editor like Photoshop. I also knew I was on the pathway to Aperture anyway, so it was just a matter of time.
Enter Aperture 3: Now Aperture has the features I had been holding out for before making the switch. I have been giving Aperture 3 a trial run over the last week since its release. Although, I have been generally very impressed with it, it has been a bit of a bumpy road. First off, is Aperture 3 really ready yet? It is definitely not as stable as Apple's iPhoto. This became very apparent right away when one of the first things I did with Aperture 3 was to import my iPhoto library into it. Aperture took to the task, but after about a minute, it crashed. On my second attempt to import over 13,000 images, it did not crash. Though it may not had crashed, it certainly took forever! You have a couple of options when importing an iPhoto library into Aperture 3. I had chosen to leave the photos where they were in the iPhoto library and just reference to them in Aperture. I assumed this will not only save space, but also time. I am not sure if it did either, as the time to import the library was at least a couple of hours and it seems to have consumed a good deal of hard disk space. Then to add insult to injury, after it was finished importing them all, Aperture 3 had to process them all. That was another 2 or 3 hours. All this without even a progress bar, just a spinning activity icon. A progress bar would had been helpful as it would had given a heads up on just how long the process was going to take, even if it was just a rough estimate. So what I thought was going to a few minutes, was 4-5 hours. I could had done this overnight if I had known it was going to take so long. It wasn't until it got the processing mode that I figured out I could click on the activity icon to get a window that gave me an idea of how images it had to go in processing.
Even with the unexpected long process of importing my iPhoto library, I am generally impressed with Aperture. Mind you, it is still a bit buggy. I have experienced a few other crashes while working with it. Though not too much for me to give up on it or for it to loose any data. Also, it seems a little slower in displaying projects (in iPhoto, these are "events") compared to iPhoto.
Antonio Rosario ( @amrosario ) brought to my attention that drag and drop importing was not working in Aperture 3 yet. I simply hadn't tried it yet myself. You can still import using the import feature, which I had been using to import new images from my DSLR and iPhone. Importing from the iPhone is just as simple as it was with iPhoto. Though unlike iPhoto, Aperture does not give you the option to delete the photos from your "Current Roll" in your iPhone after importing them. Unless I am missing that option somewhere. Also unlike iPhoto, images from my Eye-Fi card does not import wirelessly directly into Aperture. Not a biggie, as you can set Eye-Fi to transfer images to a designated folder instead of iPhoto, and then use Aperture to import from that folder. There is even an automated script that you can use to automate the process. It is called Aperture Hot Folder. I don't know if the script still works with Aperture 3 or not as I haven't tried it yet. I assume it will though.
I won't go into the details of what Aperture can do, there just too much to cover. All the tools are fairly familiar to me as I have been using Photoshop for almost 20 years now. It is more of a matter of finding where everything is on Aperture. There is also the ongoing debate over using Aperture or Adobe's Lightroom. I've always been leaning towards Aperture, aside from my general liking of Apple's software design, I wanted to be assured that it would integrate in software that uses iLife's media. Also, as I already mentioned, I wanted the features of iPhoto '09, especially the geo-tagging and being able to import all that data I already had in my iPhoto library. Years and years of photos that have been geo-tagged and tagged with faces.
If you want to know if Aperture is for you, go to the Apple site and check out the features of Aperture 3, the videos, and download a trial version (it is the full application that will work for 30 days). Trying it out is going to be the best way to decide. To my understanding, Adobe offers the same for Lightroom too.
I am sure there will be updates soon from Apple that smooth out some of the bumps that Aperture 3 has now. In the meantime, I will be using Aperture 3 for post processing as well as tweaking some of my older images as well. My fear now is if the next version of iPhoto will add any new "must-have" cutting edge features when iLife '10 comes out which I will have to wait another year or more before seeing it in Aperture?
(Mac App Store affiliate links above)