You are hereJoin Doctor Who: Podshock at The Mythological Dimensions of Doctor Who Event in May
Join Doctor Who: Podshock at The Mythological Dimensions of Doctor Who Event in May
---
As previously reported, there are several New York events (and one in London) relating to the release of the book, The Mythological Dimensions of Doctor Who
(available now on Amazon US) (see Two of Four NY Events Scheduled for the Book, The Mythological Dimensions of Doctor Who) we are now excited to announce another at 7pm on Thursday, the 20th of May at The Way Station (Note: new location) Fiddlesticks Pub & Grill. We are especially excited about this particular event because Doctor Who: Podshock will be joining editor/contributors Anthony S Burdge, Jessica Burke, Kristine Larsen along with fact checker/contributor Barnaby Edwards (of DWNY, Who York, and who maintains a blog here with the Gallifreyan Embassy), and contributor Melody Green.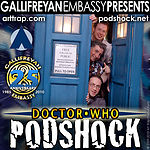 Ken Deep and Louis Trapani of Doctor Who: Podshock will be recording live at the event for an upcoming episode. Join us as we celebrate the launch of this fantastic new book.
You can hear Anthony S Burdge report on the recent East Village Cinema event with Matt Smith, Karen Gillan and Steven Moffat attending recently on Doctor Who: Podshock 192 and Doctor Who: Podshock 193 as well as with Jessica Burke on our recent live shows reviewing new episodes of Doctor Who.
New Location for this event: Fiddlesticks Pub & Grill. 56 Greenwich Avenue, New York, NY.