George Carlin Has Died
---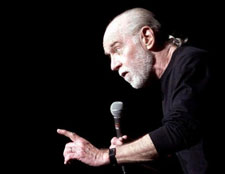 When I learned that George Carlin had died, I felt like I just lost a long time friend. Whenever anyone would ask me who was my favourite comdian, I would always respond, "George Carlin." I've been watching each HBO comedy special since Carlin at Carnegie Hall back in 1982. He once said that his job was just to observe life and report back later to tell everyone. What a wonderful job... it's the job description of an artist. He was an artist. A philosopher, a poet, a sun worshiper, and so much more. He always brought insight with his laughter. He always told it like it is and cut through the bullshit.
The world suddenly got less funnier, less insightful with the death of George Carlin. At least he has left us a great deal of material from comedy albums, to his HBO specials, to his movie roles, etc. He never shied away from any topic, be it religion, ecology, govenment, the "seven words you can't say on television," or breakfast cereal.
It's hard to believe you are gone George. Thanks for all the laughs and insightful observations.
George Carlin Has Died - George Carlin Has Died [Trapped on Earth Tumblelog]