Stay On Target - Trench Run Upgraded
---
Apps are updated fairly routinely in the Apple iTunes App Store, but it is not often that a game app is updated to the point where it almost feels like a new game. Recently THQ Wireless Inc released an update for their Star Wars title, Trench Run. There have been a good deal of recent updates in the App Store lately for either iOS 4 compatibility (or adding features to take advantage of iOS 4) and now with the release of the iPhone 4, graphics being updated to take advantage of the high resolution Retina Display it offers.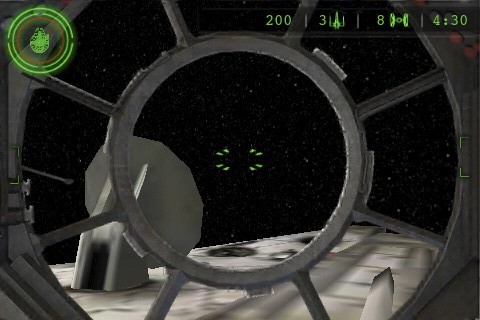 One might think that is all one would get the with recent upgrade of Star Wars: Trench Run (iTunes link: Star Wars: Trench Run - THQ Wireless Inc. ) where you reenact the final climatic battle of Star Wars: A New Hope piloting an X-Wing Fighter defending the Rebel base from the approaching Death Star. Instead, the developer actually added to the game by now including the Millennium Falcon into the mix and Y-Wings. Although you don't pilot either of these spacecrafts, you do get to man the gun turrets of the Falcon as it escapes the Death Star and then again in the trench sequence you are back in the gun turret again, this time the lower one defending the Gold squadron of Y-Wings making their run for the exhaust port. (Note: See the videos in my comment below. It appears you can fly the Falcon using the new optional Remote Controller add-on to the app.)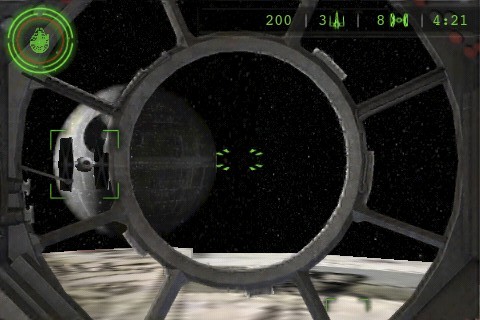 The previous X-wing piloted missions are still there. The Falcon sequences have just been added to it.
Unfortunately, Trench Run is not a universal app for the Apple iPad. Though optionally you can run it on the iPad and if you like, 2x the resolution to fill the screen. It is available for the iPhone/iPod touch. Also with this latest update, it resets the high score leader-board. If that matters to you, you will have to start over again.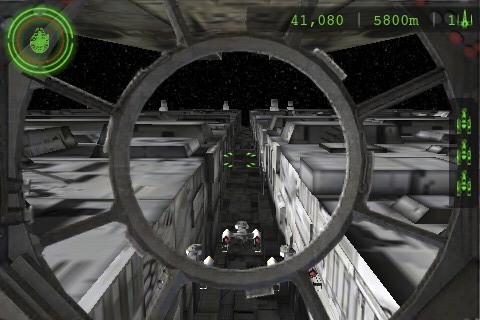 There are two modes, one is mission based and the other is an arcade mode. It is a fun game which now is even more fun especially if like me, you are a big Star Wars fan. It is currently $4.99 in the App Store. Although this is not a full review of the game, let it be known that I purchased this title when it was originally released and were not given a review copy of it.