Get Glued On GetGlue
---

Recently I have gotten glued to GetGlue. What is Glue or GetGlue? Before I explain, let me tell you how I came to discover and use GetGlue.
If you follow me on Twitter @LouisTrapani or the all so many other social media sites that I maintain a presence on, well, you know that I maintain some sort of presence on these various said services. Some I am engaged with more than others.
One of the reasons I do this is stay connected to people. Not just to people that may know me from the shows I produce and host, but also to discover others through these services. By doing so, we all gain something in the process. It is obviously more complex than that, but that will have to be another article, …or book.
One aspect I enjoy about Twitter is that it is very portable. Meaning that I can use and engage with Twitter via so many different avenues. Be it using the various desktop clients available, clients on mobile devices (iPhone, iPad, etc.), browser bookmarklets or plug-ins, or even the Twitter website itself (though it is rare that I use the actual website). I'm sure every day there is a new way to tweet that someone thinks up.
How does GetGlue fit in this? I will get to that in a moment.
Another social media tool I have been using over the course of the last 2-3 years are location-base services (i.e. Gowalla, BrightKite, etc.). These allow you to share your location with your Twitter followers and perhaps Facebook friends, etc. I found this to be advantageous when I was about to head out on a cross-country podcast tour. People would be able to follow me and possible meet up at the various stops during this tour. Unfortunately, the tour never happened, but that is another article, …or book. Though I still use location services like Gowalla (when I remember to check in). Others can still meet up with you at events, or gatherings, or just to discover new and interesting places. Even Facebook has recently incorporated location check-ins.
Okay, so now what and how does GetGlue fit into all this? Well, suppose you want to check-in from 'a galaxy far, far away
'? Or check into the animated future of 3010 in Futurama
? Location based social media services don't really allow for these type of check-ins. Enter GetGlue.
We all consume media of some form or another. Be it television, movies, books, etc. These mediums take us off to far away places, some real, some not. GetGlue provides a way to check into the media you are consuming and more. Like many other social media models, you can follow people on the service that may have similar tastes to your own or simply follow friends and see what they are consuming and commenting on. You may discover interests between you and them that you didn't know existed before or you can discover a movie, or recording artist, or television series, or book, or even wine through these connections.
Like other social media services, GetGlue can be used differently for different people. There is no one way to use the service. Though once you do, you may find yourself getting glued to it.
As stated above, with GetGlue, you can check into various media you may be watching, reading, or even thinking about. You can post reviews, like or dislike, earn stickers, become a guru, etc. GetGlue also allows you to easily connect with Twitter and Facebook. There is more to it than that though, and I suggest using it for a bit to really get a taste of it.
To my understanding, it simply started out as a browser plug-in but now has expended into so much more. Like Twitter, it is getting more and more accessible or ubiquitous. With the browser plug-in (available for Safari, Firefox, Chrome, and perhaps others) you can interact with the service directly from within the browser experience. There is also an iPhone/iPod touch app (GetGlue for iPhone and iPod touch) (App Store link), an Android app, and coming very soon, an iPad app (in the meantime, you can use the website directly on the iPad) (UPDATE: since this article was originally written, there has been an iPad version launch of the app, you can get it here: GetGlue for iPad (App Store link)), as well as apps for other mobile devices in the works. This is a key element right here. This is what makes it shine. If you are on the sofa enjoying your favorite television show or watching a movie or reading a book, etc., you can interact with others that may be doing the same by checking in and perhaps posting a comment about it without having to go to the computer to do it. Simply do it from your handheld mobile device.
Many sites incorporate GetGlue into it and there are many partner sites such as IMdb, Amazon
, Wikipedia, and many others (I am often surprised when I see the GetGlue bar appear in my plug-in equipped browser).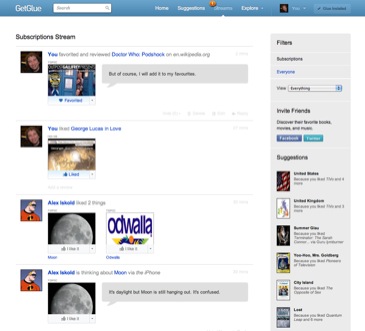 Of course, you can use the GetGlue website itself. I find myself using the service via many different routes. There are pros and cons to each, but it is good to have choices.
Another important aspect of GetGlue is the people responsible for it. Even though GetGlue has seen rapid growth recently with over 4.5 million unique ratings, 5 million monthly check-ins, new partner companies being added all the time, etc... it doesn't feel like a faceless entity. When I first started using the service, I sent a request via email to GetGlue support and I was quite surprised by the speedy personalized response I received. The staff has been outstanding. This interaction allows for the service to improve and you play a role in it. From CEO Alex Iskold to the others working with him on the service, it reminds me of personalized service of the good ol' days of calling into a computer BBS before the internet was a common everywhere.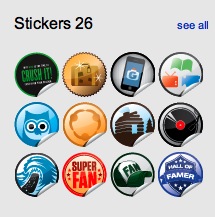 I use the service more for the interaction (sharing comments) and the discovering aspect of it (comments, reviews, etc. from people I follow or even those that I don't as well as recommendations made by the system or other gurus that may interest you). As you use the service, you earn stickers (rewards). These are digital stickers at first, but you can eventually have physical stickers sent to you. Stickers include many that are derived from GetGlue itself, but others are from partner companies or media (i.e. HBO). You can choose whether or not you want to share these achievements with Twitter or Facebook or not. The same is true with your check-ins and reviews. It allows you to be in control, which is always a good thing.
Though I may have encountered GetGlue before it, I really discovered the service via their iPhone client (having seen it demoed on AppJudgement) and signed up with an account with it then thinking it was a new service only to discover that so many of friends were already using it.
Try out GetGlue and see what you think. It can be addictive, but also fun and informative. You can even check into Doctor Who: Podshock! Be careful though, you may find yourself getting glued to it.