Hitchhiker's Guide to British Sci-Fi Returns
---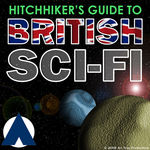 After a long hiatus, Hitchhiker's Guide to British Sci-Fi has returned. Dave Cooper @daveac joins me, Louis Trapani @LouisTrapani as co-host in this episode in which we discuss the new Torchwood series coming to Starz in the US, series 4 of The Sarah Jane Adventures, we invite our younger listeners for their reviews of K9 - The Series, plus we discuss Sherlock, The Deep, Ashes to Ashes, Merlin, and more. It also features part of an interview with Brian Croucher (Travis (2) on Blake's 7) that can be heard in full in Doctor Who: Podshock 219.
For more details, see Episode 8 of Hitchhiker's Guide to British Sci-Fi. If you are subscribing to the podcast, it is already in the feeds, or alternatively, you can download it directly here: Hitchhiker's Guide to British Sci-Fi - Ep. 8 (MP3, 39 MB)
It has been some time since our last episode. This one almost didn't make it out either if it wasn't for the forethoughtfulness of Dave Cooper who literally saved half the show (note: due to technical difficulties, the audio quality may be a little off in this episode, but at least the audio is there).
The show had been coming out on a monthly basis and we would like to bring it back to that regularity or increase it. Though without financial support from sponsors and/or listeners, it is difficult to do or promise. On a related note, there is no enhanced podcast version of this episode and it is uncertain when we will be producing enhanced episodes again for HHGTBSF until the current situation changes.
It is a little discouraging that there seems to be so little advertising/sponsorship support in the science fiction business community for shows such as this one.
In other podcast news, there are more exciting Doctor Who: Podshock episodes on their way, along with something else, a 'companion' project if you will that we have yet to announce, but many have already discovered it. Also, the date 10/10/10 is going to be special in more ways than one, expect an announcement soon relating to it, Doctor Who: Podshock, and New York Comic-Con.