You are hereDoctor Who: Podshock Celebrates 25 Years of the Gallifreyan Embassy with Daphne Ashbrook
Doctor Who: Podshock Celebrates 25 Years of the Gallifreyan Embassy with Daphne Ashbrook
---
Come and join us for a very special event celebrating 25 years of the Gallifreyan Embassy on Tuesday, the 16th of November 2010 with our very special invited guest, the lovely Daphne Ashbrook!
We have been celebrating the quarter of a century mark of the Gallifreyan Embassy all this year. If you missed our last big event in May, here's another opportunity to join in on the fun!
Joining us at the event is the always lovely Daphne Ashbrook (Grace Holloway in the 1996 Doctor Who movie).
Date: Tuesday, 16 November 2010
Time: 7pm Eastern until (to be announced)
Location: Eleanor Rigby's • 113 Mineola Blvd., Mineola, NY
Cover: $20.00 (Podshock Supporting Subscribers receive a 20% discount)
The event is taking place at Eleanor Rigby's in Mineola, NY. As you may have guessed by the name, it is a Beatles themed venue. It is very accessible from the LIRR train station as well as the Long Island Expressway and Northern & Meadowbrook State Parkways and there is plenty of parking in the rear. They offer a varied selection of menu options for food and beverages. Visit their website for more details and menu offerings. (Please note that the cover charge does not include food or drinks).
For 25 years now the Gallifreyan Embassy has been celebrating the adventures of a certain Time Lord through time and space. Now we are coming together to mark the milestone at this event which is open to everyone (you don't need to have been or be a member of the Gallifreyan Embassy).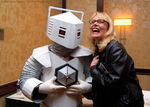 Daphne Ashbrook will be with us along with her new CD, 'Grace Notes' at the event. You may have heard a sample of it on Doctor Who: Podshock. There will be other special surprises and programming that evening. It's an event you will not want to miss, but seating is limited, so reserve your place now!
The event is only $20, but if you are a Podshock Supporting Subscriber, you can get 20% discount off the cover charge by logging into the Podshock Supporting Subscriber site and getting your discount code. If you are not already a supporting subscriber, now is the perfect time to become one and you can take advantage of this discount offer immediately. Order now to be on the guest list as no orders will be taken at the door.
Check back here and listen to Doctor Who: Podshock for further updates on the event. We look forward to seeing you there.
All invited special guests are appearing barring any professional commitments.