Calling All Flying Cars: Be on the Lookout for Space Precinct
---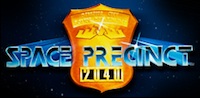 With all the celebrating going on of the 47th anniversary of Doctor Who on November 23rd last month, many science fiction fans may have missed the DVD release of the 1994-1995 sci-fi series, Space Precinct. This review of Gerry Anderson's Space Precinct complete series DVD box set release is to complement our review in the latest episode (episode 9) of Hitchhiker's Guide to British Sci-Fi.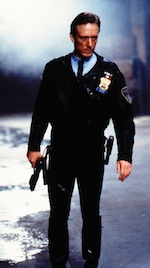 The series was created and produced by Gerry Anderson. A familiar name to sci-fi fans as his previous works include (in reverse order) Space: 1999, UFO, Captain Scarlet and the Mysersons, Thunderbirds, Stingray, Fireball XL5, and Supercar, to name a few. Space Precinct has a different flavor than his previous work. It is a police drama set in the future, 2040 to be exact. Though unlike another British television sci-fi police series, Star Cops, this series embraces many sci-fi iconic elements in it. In other words, you will see aliens in this series. They are two very different series, not to be confused with each other even though they are both science fiction police dramas produced in the UK.
Made in the mid-90s and originally shown on Sky in the UK, it is headlined by American actors similar to the way Space: 1999 was in the 70s. Whereas instead of Martin Landau and Barbara Bain starring in its two seasons, here we have Ted Shackelford (Dallas) and Rob Youngblood (NYPD Blue, Sliders) starring as the main two protagonists.
Shackelford plays a NYPD detective Patrick Brogan who is transplanted with his family to the Demeter City police on the planet Altor. It is a bit of a "fish-out-of-water" story as the now lieutenant Brogan has to adjust to working with aliens and their various cultures and biology with his partner Jack Haldane (Youngblood). Granted the series was made in the mid-90s, but even still setting it in the year 2040 may have been a little shortsighted as it is only 30 years away now as I write this (45 then) and I don't think we are anywhere close to traveling to other solar systems in that time frame.
The series based on an earlier Gerry Anderson project, Space Police. Only the pilot episode was made (which I have not seen) for that project in which Shane Rimmer played Brogan. It was never aired because it had not been picked up by any network.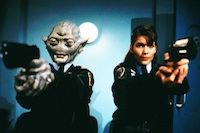 Casting Americans in the leads was probably done with the similar intent as Space: 1999, to help sell the series overseas (i.e. the US). It was indeed shown in the US. I recall watching it on a local syndicated channel in the NY tri-state area at the time. Unfortunately, it was often shown at inconsistent times and usually after midnight. Although not an issue with me with the hours I keep, I can see why it may have failed to find its audience.
It's clear that it is aimed at younger viewers, but with adult story lines. In other words, it is not a "kiddy show" (no magical dragons as regular characters) but at the same time, it is not Blade Runner or even Life on Mars. Even as a kid, I hated kid shows that were deliberately made as 'kiddy shows.'
The effects in the series were created in the classic way of using miniature models and full size props and sets, similar to previous Anderson television series. CGI effects were just coming into their own in the mid-90s television with series like Babylon 5. It is somewhat refreshing and interesting seeing television made this way, if not merely nostalgic.
Although I did catch the series when I could when it was being shown in the US, I did not see them all. It was not a series I recorded and re-watched. Therefore, I have not seen it since it was on. To my understanding it was also shown on The Sci-Fi Channel (prior to the "Syfy" branding change), but I don't recall if I watched it at all when it was on the channel. So it has been a treat revisiting the series now on DVD.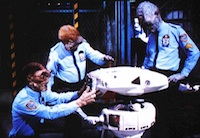 Some episodes can be hit or miss, but overall, it is an entertaining series. My advice is to give it a chance. The first episode out of the gate is not as strong as it could had been, but I felt the second was stronger, and the third stronger still. Some of stories may seem typical fair for a police procedural drama, with a sci-fi twist. Some of that I think might had been intentional. Even still, keep watching as it may wind up surprising you. While I was watching one episode, I felt it was very predictable at first. I had predicted a spoiler storyline before it happened, but then that said plot twist took another turn I wasn't expecting. I found that refreshing.
It's not Star Trek. I don't think the stories are meant to be given a deep in-depth analysis. Nor may they linger long with you for a long while. That's fine though. Sometimes you just want to be entertained and I think the series can fill that bill for a sci-fi fan. Also be prepared to suspend your disbelief when it comes to science because there's not much in terms of real scientific explanation to what you are seeing on screen. If you are one of those viewers that get on a soapbox about the bad science of Space: 1999, than you may want to avoid Space Precinct.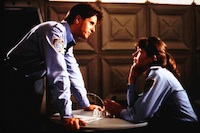 I am still in the process of watching all the episodes in the DVD box set, but there is one theme that I detecting early on that might be becoming a bit cliché already is that Brogan's police work keeps on making its way back to his family. In other words, eventually his family is threatened in some way.
As for the DVD box set itself, it is the complete series (24 episodes, 17 hours, 43 minutes) of Space Precinct on 5 DVDs. The episodes are a product of their time, so they are in standard definition in the 4:3 aspect ratio (1.33:1). It is a plain "vanilla" release. There are no extras whatsoever. No commentaries, and most surprising, not even an episode listing. Even on a plain vanilla release, I expect at least a card insert of the episode listing and which discs they can be found on, but no, it's absent. They are not even printed on the discs themselves. At first I thought that the set I had may simply had a missing episode listing card until I put the first DVD in my player and it instructed me to go to spaceprecinct.com for episode listings and more.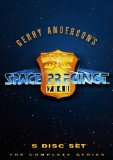 I don't believe the episodes were remastered for the DVD release, but they are a clean transfer. In fact, the commercial breaks are still present in the episodes. Not only does it fade to black where a commercial would be, but the Space Precinct badge logo flashes up on screen too. It was a little jarring at first, but you soon get used to it.
The DVD box set is available for North America (NTSC format) from Image Entertainment. I am not sure if it is region coded or region free. To my understanding a DVD set was released in the UK, but is since out of print since 2008. It is currently available via the US Amazon store: Space Precinct: The Complete Series
If you are looking for a gift for the sci-fi fan that has everything but may have missed this series, even if that sci-fi fan is yourself, this is worth checking out especially if you/they enjoy police dramas. It is good for younger audiences as well. It's a bit of Adam-12 and Dragnet in a science fiction landscape. It is more mature than Buck Rogers in the 25th Century, but not as deep as Star Trek: The Next Generation. With that said, it is an entertaining series.
Listen to our review of Space Precinct on Hitchhiker's Guide to British Sci-Fi - Episode 9.
A clip from the episode, Body and Soul:
Another clip from the same episode. You will see the commercial break, complete with Space Precinct logo bumpers as I mentioned in my review here:
Promo for the DVD box set:
(Disclosure: A review copy had been supplied for this review)