Star Wars iOS Game Apps Price Cuts
---
Just a quick heads up on some price drops of Star Wars iOS apps. I don't know if these are merely sales or permanent price changes. That said, I would assume they are on sale for a limited time instead of risk it and see the prices jump back up.
Star Wars: Trench Run - THQ Wireless Inc.
(See a previous article I posted on this title: Stay On Target - Trench Run Upgraded) Now 99¢ (was $2.99)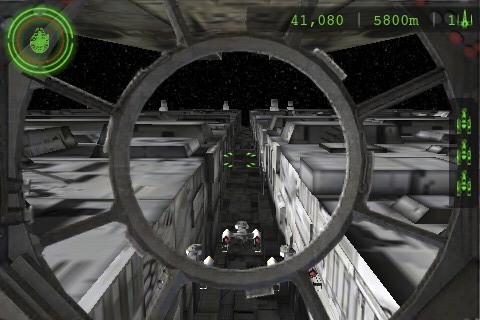 Star Wars Arcade: Falcon Gunner - THQ Wireless Inc.
A relatively new game, is now 99¢ (formerly $4.99), it takes advantage of the technology in the iPhone 4, iPhone 3GS (iOS 4.1 or higher) and iPod touch (4th gen) to deliver an augmented reality of shooting TIE-Fighters on the NYC skyline or in your bedroom.
Star Wars: Cantina HD - THQ Wireless Inc. (iPad)
Star Wars: Cantina - THQ Wireless Inc. (iPhone)
The screenshot below is the HD version for the iPad. There is an iPhone version as well. The HD version for the iPad had been $4.99, but is now 99¢ and the iPhone/iPod touch version had been $2.99 and is also now 99¢

(iPhone)
While not Star Wars, nor are they currently on sale, but they are new and if you are a Doctor Who fan it may be something you might want to check out.
Doctor Who: The Mazes of Time - BBC Worldwide (iPhone $3.99)
Doctor Who: The Mazes of Time HD - BBC Worldwide (iPad $4.99)