Give Your Photos Some Flare
---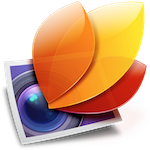 Simple, quick, and easy iOS-like photo editing comes to the Mac desktop with the new application, Flare - The Iconfactory (UPDATE: Flare 2 - The Iconfactory has replaced Flare now).
Since the introduction of third-party apps to the iPhone (now the iOS platform), one of the many genres of apps that have flourished are photo editing apps. Not surprising when you consider that the iPhone comes equipped with a built-in digital camera. A camera that at least with the iPhone has been getting better and better with each new model. While there have been some full featured, complex photo editing apps released for the iOS over the years, for the most part, they have been clean and simple to use due to the inherit design and use of the iOS mobile platform.
Apps like Instagram, 100 Cameras in 1, Picture Show, Camera+, Hipstamatic, etc. have enable users to quickly and easily change the look of the photos they take in creative ways without too much fuss. With them, you can achieve certain styles and looks with your photos that previously would require a good chunk of time in Photoshop or alike to achieve similar results.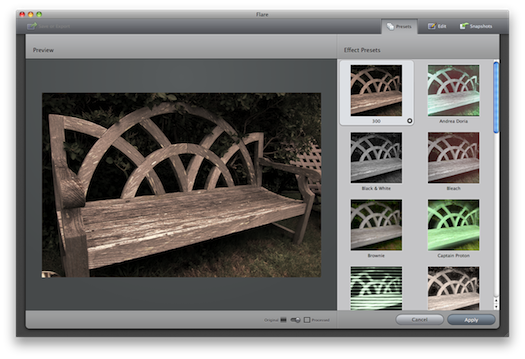 Filters applied to images in software is nothing new, especially on the Mac platform. What makes Flare so special? Flare is a stand-alone app that also works in conjunction with existing apps and image workflow apps (i.e. iPhoto or Aperture), but it brings the quick and ease of editing on the iOS platform to the Mac side.
Make no mistake, this is not Adobe Photoshop, it won't replace Photoshop or the alike, and I don't think it is meant to so anyway. It can complement your existing photo editing tools or it could all you may need. In other words, if you are looking to do dodging and burning in your photos, look elsewhere. If you don't even know what "dodging and burning" is, well Flare may be right up your alley. If you do know what it is, Flare may still be up your alley. As I said, it's another tool you can use for your post-processing of digital photos you take.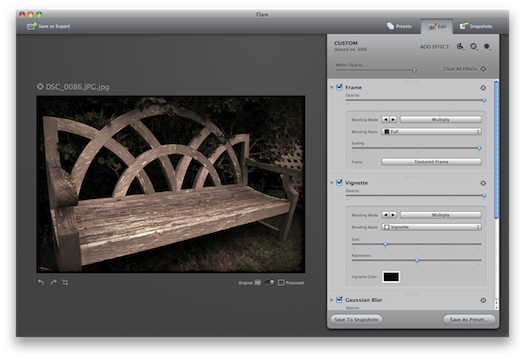 Flare comes with a good set of Preset effects (call them filters if you like, as it is term often used with iOS apps). You can add more by creating your own Presets or downloading them of the Flare website. Do you want to play around with various Presets and effects, borders, and frames? Not a problem. Flare has unlimited undos and better yet it has a "Snapshot" feature which will save snapshots of your adjustments so you can easily return to one after trying out different mixes of adjustments.
You may decide to start with a Preset that you like and then make modifications from there by editing the adjustments and/or adding some of your own.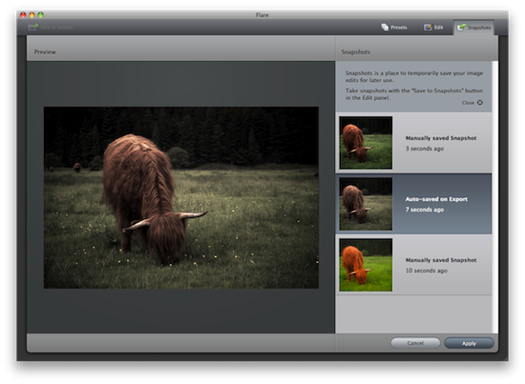 There have been a few times I can remember while doing post-processing of my photos in Aperture that I wished I could had achieved a look or style that I knew I could easily do using one of my iOS photo editing apps. Yes, I could had brought the image into Photoshop and played around with it until I got what I wanted, but it meant time. While having something that is quick and easy may mean a trade-off on some creative control of every pixel, there are times when I am just fine with that.
In addition to the Presets and other adjustment effects, Flare also offers photo rotation, cropping, and the ability to quickly compare the original to the processed image.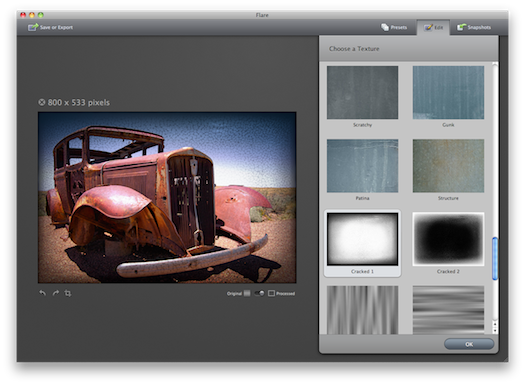 Flare is a stand-alone application, but it works nicely with others. You easily drag and drop images from iPhoto, Aperture, Photoshop, and Lightroom right into Flare. Now it does not automatically save them back into those said applications, but you can easily import your new versions edited with Flare after saving them to disk. (UPDATE: In an upcoming future version update, it will allow you to save your edited images back into iPhoto or Aperture). Flare also allows for sharing your images on Flickr and via email.
What surprised me was that when I did drag and drop images from Aperture to edit in Flare, when I imported those images back into Aperture, they retained the metadata from the original! In other words, the keywords you gave the image in Aperture are retained in the edited image. I haven't checked yet to see if the GPS and Faces data from Aperture (and presumably iPhoto) are also retained or not.
What I don't understand is the resolution of the saved out images from Flare. So far, in my testing, it saves the new edited images smaller than the original (perhaps by half as I noted in one case). Even though I left the size restriction unchecked while saving the image, the resulting saved image is not the same full resolution of the original.
I don't see anything in the settings about resolution sizes of saved images, nor do I see anything on their user guide published on their website mentioning it.
(With the help of The Icon Factory, we determined that it is not Flare that is reducing the size of the images. Rather when dragging and dropping images from Aperture, it uses Aperture's preview images which by default are half size (I believe you change this in your Aperture settings). If you right-click the image in Aperture and choose "Show in Finder" and drag that into Flare, the full resolution of the original will be retained (though you are probably using the master image so whatever changes you may had made in Aperture may not be present).)
Another point of frustration is when sharing your image to Flickr, the Flare app automatically inserts a link to their website in the Flickr image description field. Now you can easily delete it out before it is published, but you shouldn't have to if you don't want it there in the first place. I paid for the app, I don't need to advertise their product in my image description if I don't want to have it there. (UPDATE: This has be addressed in version 1.0.1 which now has option to turn it off in the preferences).
Now as I said, this is not Photoshop nor is it meant to be, but it would be nice if they included a simple way to add some text to an image. Nothing too complex, but if you simply want to watermark or add a copyright note to the bottom of the photo, it's not there in Flare. Hopefully, a future upgrade may add that feature.
Some may also be disappointed with the lack of sharing options with Facebook. It doesn't bother me. You can easily share images to Facebook by using iPhoto or Aperture or simply Facebook itself. That said, I wouldn't be surprise if they add this in a future version.
The Icon Factory is offering Flare (Flare 2 - The Iconfactory) for half off as an introductory price in the Mac App Store (ends March 18, 2011). That is $9.99 now, instead of $19.95. For ten dollars (or even $20), you can't go wrong with Flare.
Below are some of my initial photos I post-processed with Flare before writing this review.
Above photo a bench I quickly shot with my DSLR but did get the look I wanted at the time is now what I what I had envisioned it to be with the help of Flare.
The above photo of an old WWI fighter airplane was originally taken with an old digital 1.3 MP camera. Now made to look even older with Flare.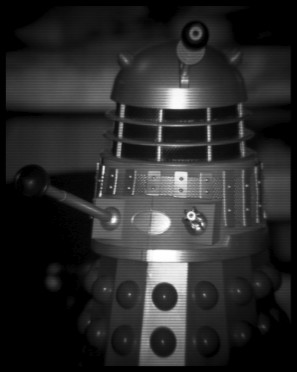 Just for fun, the above photo is a Dalek Remote Controlled toy after Flare.
Note: No review copy of the software was received for this article. The links for Flare above are affiliate links to the Mac App Store.