Final Cut Pro X is Now Available in the Mac App Store
---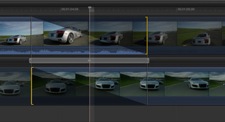 Apple has released Final Cut Pro X to the Mac App Store (store link: Final Cut Pro - Apple) today. The long awaited upgrade for this professional movie editor software has been rewritten from the ground up. The big news when it was announced a few months ago was that it would be coming to the Mac App Store with a new price of only $299 (previously FCP itself was $999). Other companion apps that had been included in Final Cut Pro Studio suite such as Motion - Apple and Compressor - Apple are sold separately also in the Mac Store for $49 each. It doesn't look like Soundtrack Pro has made the cut though, at least not yet.
This isn't a review, we don't have this version as of yet. There has been some reaction from users upgrading that oddly there doesn't seem to be a way to import previous FCP version projects into this new release, yet there is an importer for iMovie projects.
From what I understand this version brings the ease of use of let's say iMovie - Apple to the FCP experience. Without having used it yet, I can't say if all the advanced features are still represented or not. I also assume that Final Cut Express (the lesser priced less functional version of FCP is no more now). It seems to be priced and geared greatly as an upgrade path for iMovie users.
Follow @LouisTrapani