You are hereTorchwood: Miracle Day - Episode 1 "The New World" Reviewed in Hitchhiker's Guide to British Sci-Fi
Torchwood: Miracle Day - Episode 1 "The New World" Reviewed in Hitchhiker's Guide to British Sci-Fi
---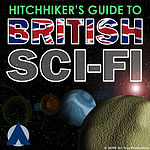 Hitchhiker's Guide to British Sci-Fi - Episode 11
Running Time: 1:27:53
Torchwood: Miracle Day - Episode 1 - "The New World" reviewed live over the net with your live feedback (chiming in with us is Mark Goodarce).
Hosted by Louis Trapani @LouisTrapani and Dave Cooper @daveac
Note: You may hear some slight audio distortion in this episode, we apologize for that. We will be back to our usual standards next time.
Get a FREE audiobook download from Audible with a FREE trial and support our show in the process!
Get your Hitchhiker's Guide to British Sci-Fi swag and gear here! Be sure to also to subscribe to Doctor Who: Podshock for further coverage of Doctor Who.
You can support this podcast by making a donation.
Below are the links to the Enhanced Podcast AAC format and MP3 format version of the first episode of the Hitchhiker's Guide to British Sci-Fi podcast.
Subscribe via iTunes: Below are the direct links to iTunes for both versions.
Direct podcast feeds: