You are hereSonic Newsdriver Podcast Premieres
Sonic Newsdriver Podcast Premieres
---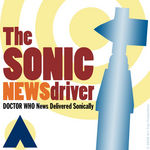 We are proud to announce the premiere episode of the Sonic Newsdriver podcast, the first of several new podcasts currently being launched this autumn. What is the Sonic Newsdriver? It is a new podcast which delivers selected Doctor Who related news to you sonically! It fils the gap between Doctor Who: Podshock episodes with news stories that may have otherwise gone unreported on Doctor Who: Podshock. It does not replace the news segment feature of Doctor Who: Podshock though, where the news is discussed, opinions are given, and news announcements that are made which may or may not have been covered on the Sonic Newsdriver podcast.
This new podcast which focus on Doctor Who related news is presented in a format that makes it easy to digest with episodes running anywhere between 10 to 15 minutes in length.
It is currently being previewed on the Doctor Who: Podshock podcast main feeds for a limited time before it is breaks off on its own feed. If you are already subscribed to one of the two main feeds, you will be receiving the preview episodes of the Sonic Newsdriver automatically. If not, you can download the premiere episode using the link below:
(MP3 format, 5.2 MB (running time 11:17))
See below for information on how to subscribe to the Sonic Newsdriver podcast directly.
If you are not already subscribing to the Doctor Who: Podshock podcast, click here to subscribe via iTunes. For other feed options, see here for more information.
Sonic Newsdriver Feeds:
>> Subscribe to The Sonic Newsdriver via iTunes
>> The Sonic Newsdriver Preview Feed (RSS podcast feed)