Ken Deep
---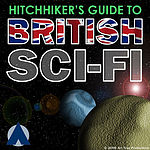 From the creators of Doctor Who: Podshock comes a new podcast covering all British science fiction. It was previewed on the Doctor Who: Podshock feed for a limited time (it now has it's own feeds as well - see below). As the name implies, this show covers all British science fiction media. While this podcast will still cover some Doctor Who material (for in-depth coverage subscribe to Doctor Who: Podshock).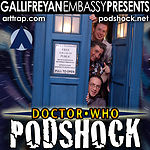 Doctor Who: Podshock is the longest running Doctor Who podcast (est. 2005) presented by the fan run Gallifreyan Embassy (est. 1985) and formerly presented by Outpost Gallifrey (up until Outpost Gallifrey closed in July 2009) is now the official podcast for the annual Gallifrey One conventions. We feature the latest Doctor Who news, reviews, interviews, commentaries and discussions from US and UK with an international perspective.
Hosted by Louis Trapani, Ken Deep, and Ian Bisset in the US and Dave Cooper and Graeme Sheridan in the UK and Germany respectively (and originally with James Naughton in the UK), with segments and contributions by regular corespondents around the world.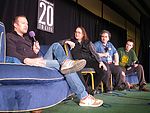 (left to right) Doctor Who Producer Phil Collinson, Ken Deep, Louis Trapani, and James Naughton recording Doctor Who: Podshock - Episode 141 live on stage at Gallifrey 20 in Los Angeles, CA, February 15, 2009. Photo by Billy Davis.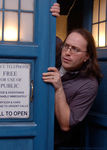 Ken Deep comes to podcasting from the traditional broadcasting medium. Having honed his skills in professional radio and television broadcasting, he applies the same vigor and enthusiasm to our podcasts.
He, along with Louis Trapani were there from the beginning of the Gallifreyan Embassy and helped to bring it to where it is today. His extensive knowledge of science fiction is evident in all our shows.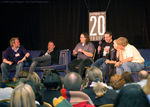 Toby Hadoke, Phil Collinson, Ken Deep, Paul Cornell, Wendy Padbury, and Frazer Hines during "Just a Minute" at Gallifrey 20.