radio
---
Hitchhiker's Guide to British Sci-Fi - Episode 5
Running Time: 1:32:09
Torchwood: Children of Earth review (towards the end to avoid spoilers, the rest of this podcast proceeding the review is spoiler free), Blake's 7 Audio Books, Doctor Who's 11th Doctor's New Threads and TARDIS, Torchwood Radio Dramas, Mike's Comics Winners, feedback and more.
Hosted by Louis Trapani, Ken Deep, and James Naughton.
The Sonic Newsdriver 20090703
Selected Doctor Who related news delivered sonically.
For Earth-date: Friday the 3rd of July 2009
In this episode: Barrowman Punished?, Torchwood for Sherwood, Behind the BBC Iron Curtain, Believe in Yourself, the Havers and Havers Not, Where's the Doctor Who News, Tabloid Wheeze, Mum is the Word, 26th Most Eligible Smith, and Get Your Sonic Gear, plus more!
Hosted by Louis Trapani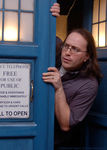 Ken Deep comes to podcasting from the traditional broadcasting medium. Having honed his skills in professional radio and television broadcasting, he applies the same vigor and enthusiasm to our podcasts.
He, along with Louis Trapani were there from the beginning of the Gallifreyan Embassy and helped to bring it to where it is today. His extensive knowledge of science fiction is evident in all our shows.