You are hereNewMediaExpo2008
NewMediaExpo2008
---
Now in my tenth year of being a podcaster, it is by no means surprising that one of the topics I'm asked about over and over again is how to start podcasting. I always recommend starting off with the minimum essentials and then slowly building up your gear as you go along. In other words, don't make a huge investment in hardware and software initially. You can always upgrade and enhance your set up as you go along. This way, if you find it is something that isn't for you or perhaps you simply don't have the time you thought you would had when you first decided on doing it, you can stop without having invested too much money into it.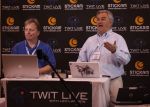 TWIT Live at NME '08: Leo Laporte streaming liveNext month is the Blogworld & New Media Expo 2009. October 15 - 17, 2009 is the first expo/confonrence after Blogworld merged with the New Media Expo. It is a trade show for anyone involved with new media. Be it podcasting, blogging, social media, vblogging, etc. there is something for you at the Blogworld & New Media Expo.
I attended last year for the New Media Expo 2008 in Las Vegas, NV and found it enlightening to be around like-minded individuals working in new media.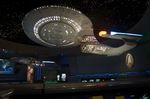 Another view of the starships hanging above Quark's Bar and Restaurant, this point of view is from the museum area of the Star Trek Experience in Las Vegas, NV.
Read more about it here: Are You Experienced?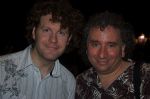 Geoff Smith and IAfter a day of reflection, the following are some of my thoughts after attending the New Media Expo 2008 which took place on the 14, 15, and 16 of August 2008 in Las Vegas, Nevada.
The 4th annual New Media Expo is slated for mid-August this year. Whereas originally I was planning on being on tour and would have been in Cleveland, Ohio for the JTP podcast tour, I thought this would be yet another year in which I would be unable to attend this Expo which brings new media producers, podcasters, and other interested parties together under one roof with an exhibitors hall, lecture sessions, keynote addresses, connected 3rd party events, and networking.
This year, Doctor Who: Podshock will be represented as well as other planned future podcasts currently in the planning stages as I will be attending the expo. It is more important now than ever before since the podcast tour is no longer taking place as planned, it is a time where it is very important for us to reorganize and strategize where we are going with new media production.