convention
---
Episode 9 of The Sonic Newsdriver
Selected Doctor Who related news delivered sonically.
For Earth-date: Thursday the 23rd of October, 2008
Doctor Who Fancy Dress Exhibition, Doctor Who US Cable Viewers - Democrat or Republican?, Eric Roberts at the Los Angeles Comic Book and Science Fiction Convention, Happy Birthday Derek Jacobi and iPod.
Hosted by Louis Trapani.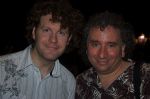 Geoff Smith and IAfter a day of reflection, the following are some of my thoughts after attending the New Media Expo 2008 which took place on the 14, 15, and 16 of August 2008 in Las Vegas, Nevada.