T-shirt
---
Since Gallifreyan Embassy introduced the first Gallifreyan Embassy T-shirts back in 1986, they have been popular fashion wear at conventions, meet ups, special events, PBS pledge drives, and just everyday wear. These original shirts and buttons have been long unavailable until 2005, when with the launch of Doctor Who: Podshock, the Gallifreyan Embassy has re-introduced Gallifreyan Embassy / Podshock shirts again. These popular Classic Gallifreyan Embassy and Podshock apparel and other items are still available today.
Like the Doctor and the Doctor Who series itself, the shirts and other related items have been refreshed or "regenerated" if you like. Much of the same basic design remains, just slightly updated. Items include all various style of shirts in various colours. Men and women, plus sizes, kids and toddlers alike shirts can be had now.
In addition to shirts, there are sweatshirts, hoodies, polo shirts, bibs, caps, bags, mugs, buttons, magnets, pet bowls, pillows, stickers, and more. Yes, even TIME MACHINES! Yep, time machines can be purchased as well, although most people use the term, 'clocks' -- they are still time machines. Plus more items.
They are all available at the new Gallifreyan Embassy Cafe Shop.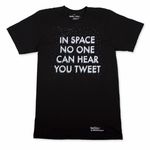 Not too long ago, I had tweeted, "In space, no one can hear you tweet." It was one of many tweets I made that evening within the same vein.
Little did I know at the time that the good folks at Threadless (an innovative web-based T-shirt company) would choose it to be among their new shirts being offered in their Twitter Tees by Threadless line debuting today.