music
---
The Sonic Newsdriver 20090116
Selected Doctor Who related news delivered sonically.
For Earth-date: Friday the 16th of January 2009
A week of passings (John Scott Martin, Patrick McGoohan, Ricardo Montalban, Andrew Wyeth) and miracles (US Airways), David Tennant Returns to Hamlet, John Barrowman to Pen Torchwood Comic, Catherine Tate as the 10th Doctor, Doctor Who Shooting in Dubai, Doctor Who: Series 4 Soundtrack released in the US.
Episode 131 of Doctor Who: Podshock is now available.
Outpost Gallifrey Presents:
Doctor Who: Podshock - Episode 131
Running Time: 1:38:53
Doctor Who music composer Dominic Glynn interviewed, news and rumours discussed, DWNY Video Meet Up Report #2, feedback. Hosted by Louis Trapani, Ken Deep, and James Naughton.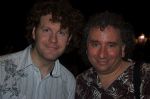 Geoff Smith (who came up with our brilliant Doctor Who: Podshock theme) and I (Louis Trapani) at Coverville 500 while attending the New Media Expo 2008.
Thanks to photographer, Chris Marquardt who took this photo with my camera.